Welcome
|PAGE UPDATED ON February 15th, 2017|
Announcements - In Reverse Chronological Order
2017 EVENTS IN REVERSE CHRONOLOGICAL ORDER:
The winter newsletter and the registration form is now available. The meeting agenda is in the newsletter. The deadline to sign up is Friday, March 10th. This will ensure that you are guaranteed a meal. The registration is available here. The newsletter and agenda is available here.
---
Participate in the FREE 2017 Science and Technology Conservation Webinars presented by the USDA NRCS its open to the public and CEU's are available after completion of the training. Click here to schedule your desired webinars.
---
MAPSS 2017 Annual Meeting on March 15th is scheduled at the Wells Common Meeting Center at the University of Maine in Orono. Registration and Agenda to be posted shortly.
---
Recognizing Dave Rocque accepting his award at our annual meeting on Thursday, March 24th, 2016 at Bates College, in Lewiston.
---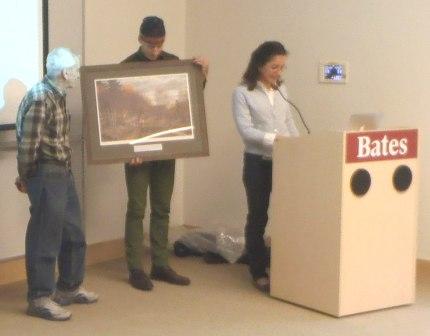 Dave Rocque Recognition Day at 2016 MAPSS Annual Meeting. From left to right Dave Rocque, Chris Dorion, and Johanna Szillery
---
| | |
| --- | --- |
| | We would like to recognize the accomplishments durring the International Year of Soil of 2015 and have left this link to view all the great activities that occurred. |
---
You will be pleased to learn that the Maine Legislature passed a Joint Resolution Recognizing The Importance Of Soils To Maine's Future Prosperity on March, 16th!
---
A new link has been added to the left navigation pane: "Current Issues Before MAPSS". This link addresses continuing efforts by MAPSS on several fronts related to regulatory, scientific, or of long term interests to members of the soil science community.
---
Please use the link in the left navigation window "Past Events & Workshops - RESULTS (Write-ups, Comments, and Photos Albums are HERE)" to access MAPSS' archives of past workshops, meetings, and conferences.
---